About PET-CT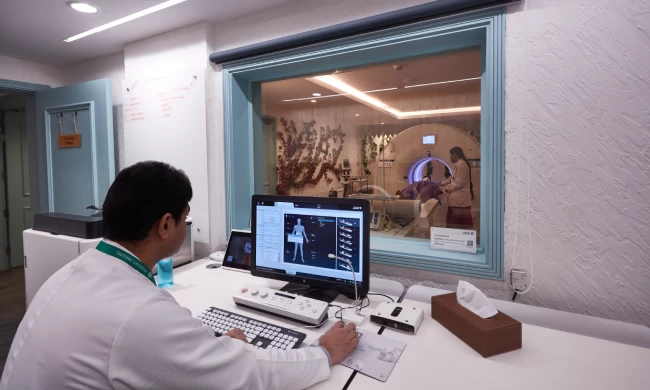 Mahajan Imaging is a pioneer of PET CT in India since 2007, making it the most experienced department of PET CT in the country. The equipment includes the latest generation Digital PET CT with high resolution images capable of detecting smallest lesions and abnormalities with the lowest radiation dose. At Mahajan Imaging, the high-quality PET images are fused with multi-planar diagnostic CT scan images to provide complete structural and functional information to the treating physicians. This not only obviates multiple unnecessary investigations but also reduces the total radiation burden on the patient. Mahajan Imaging also performs Prostate Specific Membrane Antigen (PSMA) PET CT, for prostate cancer, and Gallium DOTANOC PET CT, for neuroendocrine tumours at its centres.
What is PET CT Scan?
Positron Emission Tomography is an advanced molecular imaging procedure that provides a way to diagnose disease through the measurement of metabolic activity.
CT stands for Computerized Tomography. CT is an X-ray test that generates a detailed view of the anatomy of structure of organs and tissues in the body. The CT scan can show the structural details of blood vessels, lymph nodes and organ systems.
A PET CT is a combination of a PET scanner and a High Resolution Multi-slice CT which fuses the functional images of PET with the high-resolution structural images of CT.
How does PET CT Technology Help?
By combining the strengths of the two modalities, the PET CT scanner affords unparalleled diagnostic capabilities, particularly in the fields of oncology, cardiology and neurology. By using a high resolution MDCT and by doing a contrast enhanced multiphasic CT and combining it with functional information of PET, the examination can give all the information required for staging and management of disease in a single test, rather than undergoing separate examinations.
PET helps physicians to improve the accuracy of a diagnosis, create an individualized treatment plan, and closely monitor a patient's progress. Radiation oncologists can use PET CT's combined information about metabolic activity and anatomical location to better tailor radiation fields reaching all the cancer cells while avoiding damage to the surrounding healthy tissue.
Surgeons can use PET CT to pinpoint exactly where to perform a biopsy or surgical excision.
How does PET CT Work?
During a PET scan, the patient is first injected with a radiopharmaceutical, usually FDG, a radioactive glucose compound. The compound distributes throughout the body and accumulates in various organs depending on the metabolic activity within the organ or tissue. Because cancer cells usually have a higher metabolic rate than surrounding cells, they absorb more of the tracer and will show up more prominently on the image. The PET CT scanner detects the FDG accumulated in glucose-avid organs or tissues and creates images that are displayed as colour-coded images.
At the Mahajan Imaging, a high resolution 3-dimensional contrast enhanced CT scan is obtained in most cases. Acquiring 0.625 mm thick slices in all planes, using a volume acquisition on a MDCT, obviates the need for a 'separate CT scan examination and makes the PET CT very cost-effective. Where necessary CT angiography is also performed in the same sitting.
Major Indications for PET CT
PET CT and Cancer
Staging of Cancer: PET is extremely sensitive in determining the full extent of disease, especially in cancers. Confirmation of metastatic disease allows the physician and patient to more accurately decide on how to proceed with the patient's management.
Checking for recurrences: PET is currently considered to be the most accurate diagnostic procedure to differentiate tumor recurrences from radiation necrosis or post-surgical changes. Such an approach allows for the development of a more rational treatment plan for the patient.
Assessing the Effectiveness of Chemotherapy: The level of tumor metabolism is compared on PET scans before and after chemotherapy cycle. A successful response seen on PET scan frequently precedes alterations in anatomy and is considered to be an earlier indicator of tumor shrinkage than might be seen with other diagnostic modalities.
PET CT and Neurology
PET CT can reveal abnormal functional and structural patterns in the brain, helping to assess patients with various disorders, including epilepsy and dementia.
PET CT localize seizure focus in a patient with temporal lobe epilepsy aiding in drug therapy or surgical intervention
Neurology PET CT is used to:
Localize areas of the brain causing epileptic seizures - determining whether surgery is an option.
Provide key diagnostic information for Alzheimer's disease in select patients.
Differentiate among dementia disorders, including Alzheimer's disease, Parkinson's disease, and Huntington's disease.
For paediatric neurology patients, PET CT particularly aids in defining the seizure focus site for epileptic seizure disorders.
PET CT and Cardiology
PET CT provides unparalleled insights into myocardial viability. This often helps to determine the optimal treatment path- identifying whether a patient is a candidate for coronary angioplasty, coronary artery bypass graft (CABG) surgery, or heart transplantation. At our centre we have the unique capability of fusing PET/SPECT images with CT coronary angiography.
PET CT and Infection
There is a growing body of evidence that PET CT is very valuable in diagnosis of infection and for follow-up to determine eradication of disease. It can be very useful in patients with fever of unknown origin (PUO). PET CT may provide objective evidence of when to stop treatment in selected patients with tubercular infections. It may also be useful in determining infection in joint implants.
Prostate-Specific Membrane Antigen (PSMA)
Prostate cancer (PCa) is the second leading cause of cancer related death in men.
PSMA is a cell surface trans- membrane glycoprotein that is highly prostate-specific and over expressed on prostate tumor cells by virtually all types of prostate cancers.
68Ga-PSMA PET /CT scan is very sensitive for detection of primary prostate cancer, small lymph node, bone and liver metastases and cancer relapses with improved contrast even at low PSA levels due to significantly high radiotracer uptake in the lesion and very low background uptake.
Patient is a suspected case of carcinoma prostate with raised serum PSA level s and M RI shows prostatomegaly with nodular hyperplasia with 9.5 x 5.5 mm sized lesion in right peripheral zone of prostate. 68Ga-PSMA PET I CT scan showing non PSMA avid pro s tatomegaly suggestive of benign prostatic hyperplasia.
Patient is a case of adenocarcinoma prostate with raised serum PSA. 68Ga-PSMA PET/CT scan showing lesion in prostate and metastasis in lymph nodes and bone.
68Ga-PSMA PET / CT scan is an excellent tool for the diagnosis of Ca prostate and to direct cancer therapy and monitoring of PSMA expression changes with non- PSMA-based therapy.
Ga Octreotide DOTANOC PET CT
Mahajan Imaging at Sir Ganga Ram Hospital, well known for excellence in the field of medical imaging, is pleased to offer Whole Body Ga Octreotide (DOTANOC) PET CT scan for the first time in the private sector in Delhi and the entire of north India.
The Ga Octreotide DOTANOC PET CT scan is the latest diagnostic technique used to detect Neuroendocrine tumors. It shows a significantly higher detection rate as compared with conventional receptor scintigraphy and diagnostic CT. Binding affinity of DOTANOC to surface receptors (SSTR 2, 3 & 5) is 3 to 4 times higher than other available radio-pharmaceuticals, hence the sensitivity and specificity of this scan is very high for the detection of Neuroendocrine tumors and their metastasis.
Fusion of Ga Octreotide DOTANOC PET images with diagnostic CT images gives exact localization and distribution of these tumors. Ga Octreotide (DOTANOC) PET CT can modify stage or can modify treatment in up to 55% cases of Neuroendocrine tumors.
Exam Preparation
There is very little preparation needed for a PET CT exam. Typically, you will be asked not to eat 6-8 hours prior to the exam but you should drink a lot of water before the scan. If you're taking medication please consult with your physician before the exam. Most medications can be taken on the day of the exam.
Please avoid alcohol and strenuous exercise 24 hours before your appointment. If you are diabetic, it is important that your blood sugar, be in control for at least a week before the scan. If your blood sugar is high on the day of the scan the doctors at the PET CT centre may have to correct it by injecting a short acting insulin. Alternatively, your scan may be deferred till such time that your sugar comes under control. You may be asked to put on a gown for the exam, so dress comfortably and expect to change your clothes. Please do not wear any jewellery. Please bring any related test reports including CT or MRI films.
PET CT Scans are not done on pregnant patients. So please consult with your doctor if you think you are pregnant. Plan to spend about 3 hours at the PET CT Centre.
The Exam
Prior to the exam you will receive a small injection of radioactive sugar (FDG). You will be asked to sit or lie down on a comfortable chair or bed for 30-60 minutes while the FDG travels throughout your body. It is important that you do not talk, read, walk around or chew gum during this period. In some cases, you may be asked to drink medicine (oral contrast) to outline the bowel loops in the abdomen. This will be at regular intervals before the actual scan is performed.
After this short time, the technologist will assist you to the scanner. The CT portion of the exam is completed first, followed by the PET portion. An intravenous non-ionic iodinated contrast may be injected for the CT scan.
It is important that you don't move for the duration of the scan. The length of the exam is determined by your height and area of interest. Most PET CT scans at our centre are typically completed within 20- 30 minutes
After
Once the scan has been performed you may resume normal daily activity. Even though the FOG and contrast will quickly leave your body, you can expedite the process by drinking plenty of water after your scan is complete.
Your PET CT result will not be immediately available, but the reading physician will contact your referring doctor to convey all pertinent information gathered from the scan. You can collect your scan report the next day.