About Cardiac Imaging/PFT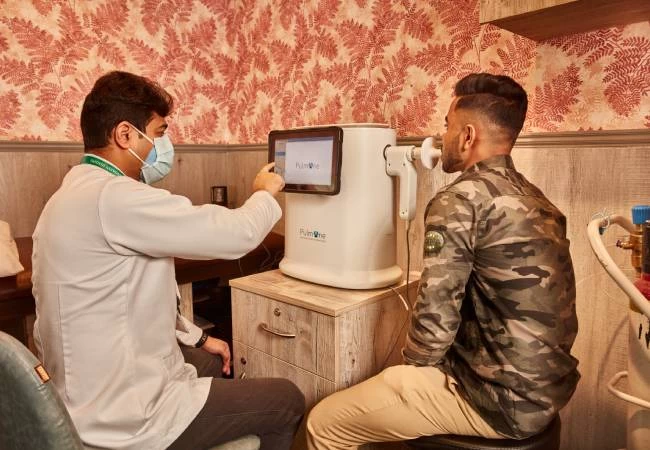 Non-invasive cardiac imaging is an effective way to support the diagnosis of a heart condition. It allows healthcare specialists to visualise various heart-related diseases in an easy, safe, fast, and efficient manner.
We specialise in providing advanced imaging of the heart with different non-invasive imaging modalities, including, Echocardiogram, TMT, Holter, Stress Echo and much more.
Pulmonary Function Testing (PFT) is a non-invasive method to measure the function of the lungs. It precisely assesses the lung volume, capacity, rate of flow, and gas exchange. The testing helps doctors diagnose certain lung disorders, including:
Allergies
Lung cancer
Asthma
Infections
Lung fibrosis
Chronic bronchitis
Chronic obstructive pulmonary disease
PFT at Mahajan Imaging & Labs
Pulmonary Function Testing- with an Ultrasonic Sensor and Diffusion Abnormality Assessment
Mahajan Imaging & Labs has advanced Pulmonary Function Testing systems for Spirometry and Diffusion Abnormality Assessment. Our machines are the best in class amongst the first few in the country. Unlike regular PFT systems, the machines are capable of not only screening but actual diagnosis as well. It comes with the following features:
Real-time temperature correction (ATPS & BTPS): Most accurate and precise results
Diagnosis is unaffected by temperature, heat or humidity
Helium is used as tracer gas instead of Methane and likewise cheaper and pungent-smelling substitutes
Aids diagnosis and is not used only for screening
Most Patient friendly and most hygienic system- No cross contamination